Dog Grooming

Our grooming is a premium service, not a production line like other stores. We are skilled in techniques that help pets who have had previous bad experiences become more comfortable with grooming. We hand dry every dog and never use cage dryers, which can overheat and stress your pet. We prefer not to put pets in crates, so when you book your grooming, plan to bring your dog at their appointment time and be available to pick them up as soon as we give you a call to let you know they're ready. We groom dogs that may not be good with other dogs, so we ask you to honor their personal time with our groomers and you are prompt for your pet's drop off and pick up time.
At times, we may suggest adjusting your pet's diet to alleviate dry skin, yucky ears, itching, allergic reactions, anal gland issues, tear stain under the eyes and tartar covered teeth. Surprisingly, what your pets eat, makes a difference in how they look and smell!
All our groomers are required to have a minimum of five years of professional expertise before they are invited to join our team. They attend trade shows and educational seminars to learn new techniques and find new products. Our store is an associate member of the American Holistic Veterinary Medicine Association and we are an AKC Certified Safe Grooming Salon.
How To Schedule Your Pet's Grooming Appointment
Please call the store at (434) 825-5472 to schedule your pet's grooming. Appointments are available Monday – Saturday, from 9:00 am – 4:00 p.m. Sundays may be available by special request. We normally book 2 – 3 weeks in advance, so please plan ahead, especially in November & December! We request 48 hrs. advance notice for any schedule changes. No-shows/No-calls will be requested to pay for the appointment they missed before they can reschedule.

Full-Service Grooming
Your pet will be given a hot water bath, clipped, combed, have their teeth brushed, nails trimmed and shaped and anal glands. checked. They'll be beautiful from nose to tail! Learn more about our services below.

Bath & Fash Wash
Your dog will be washed with all natural, Earth Bath shampoos and conditioner. A special de-shedding treatment is available by request. *Please note, that due to our store's ventilation, we are not able to bathe and dry a dog who has been sprayed by a skunk.

Brush Out, De-Matting, Haircut
We provide breed-specific haircuts and include special touches like trimming the hair between the toes or sanitary areas and pay special attention to body areas that mat. If your dog is matted and cannot be brushed out without hurting your pet, we may have to style to a shorter length than you originally requested. Our goal is for the safety and comfort of your pet at all times.

Face Trim
Several pooches need a haircut from around their face. Our groomer will be able to help you identify the perfect style for your dog.

Nail Trim
We cut nails to a prudent length, just short of the toenail quick. Nail trimming prevents painful nail cracking or nails breaking. We also grind the nails so they have a prettier, rounder shape that are less likely to snag.

Anal Gland Expression & Sanitary Trim
Anal gland expression can help hinder symptoms connected with anal gland irritation and can become infected if liquids are not drained naturally. We check glands by request at no additional charge.
For long hair doggies, sanitary hair cutting may be needed to cut long fur from around the bum and in between the legs.

Ear Cleaning
A dog's ears are delicate and vulnerable to infection, excessive wax buildup, and ear mites. Cleaning your pet's ears reduces build-up to help hinder infections and reduce the smell. We may also recommend a change to the diet, as yeast can sometimes cause that brown yukky stuff.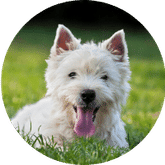 Hand Stripping Terrier Breeds
This service is an art and should only be performed by experienced groomers who have studied the breed standard and learned the technique. Stripping the coat allows the hair to repel water and protects the dog against thorns in the woods. If your dog has been clipped instead of stripped, the coat goes very soft and the undercoat is compromised. It can take years to get the coat back to it's original shape, so please discuss this service with our groomers.

Teeth Brushing
Regular brushing and teeth cleaning protects your pet from bad breath, tooth loss, and gum disease. We include teeth brushing with full grooming services at no additional charge.
What Customers Near Charlottesville Are Saying
At Animal Connection, we love all of our customers from local areas near us! Including, but not limited to, Charlottesville, Harrisonburg, Staunton, Waynesboro, North Garden, Scottsville, Zion Crossroads, Lake Monticello, Keswick, Barboursville, Gordonsville, Earlysville, Crozet, Free Union, Lynchburg, and more!
Come visit our pet supply store in Charlottesville, VA specializing in quality food, treats, apparel, toys, gear, and supplies for cats and dogs.